Why shop with us?
Award winning dealership

Stress-free shopping experience
Large inventory of new Audi models and used cars
Complimentary pick-up and delivery for service and sales

​Complimentary wifi, coffee and pastries, and TV in our waiting area

Magna Society Awards

Five time Audi Magna Society Award winner - 2016, 2017, 2018, 2019, and 2021

One of only 16 U.S. Audi dealerships to receive the 2018 Audi Magna Society Elite Award

Only 2017 Magna Society winner in the State of Louisiana

#1 in the U.S. for Customer Satisfaction in 2016
Times of Acadiana Best Luxury Dealership
Times of Acadiana Best Imported New Car Dealership



Learn More About Magna Society
Carfax Top-Rated Dealer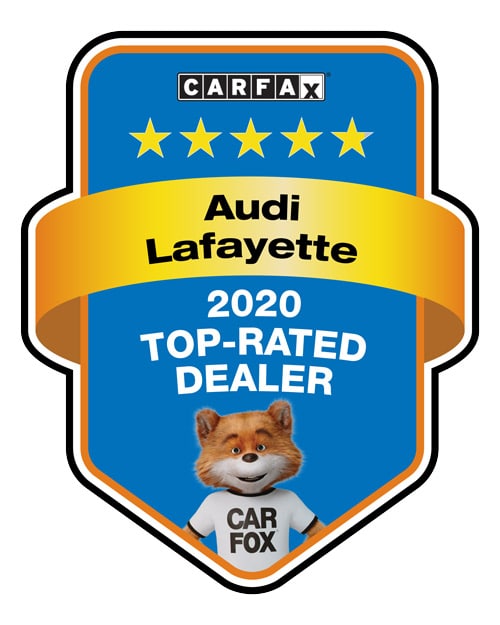 Audi Lafayette RECOGNIZED AS A CARFAX TOP-RATED DEALER

Verified Customer Ratings Used to Name Second Annual CARFAX Top-Rated Dealer in U.S.

Audi Lafayette is being honored in the second annual CARFAX Top-Rated Dealer Program. The 2020 CARFAX Top-Rated Dealers received an average of 4.6 stars out of a possible five stars. The select group of dealers are being celebrated for their commitment to building consumer confidence through exceptional service and customer care.
"CARFAX has more than 2.2 million verified customer ratings and reviews for dealerships around the country," said Bill Eager, CARFAX Vice President of Dealer Business. "The Top-Rated Dealer program recognizes the best of the best for exceptional service and customer care."
You can look for Audi Lafayette 2020 CARFAX Top-Rated Dealer badge on the CARFAX Vehicle History Reports they provide customers.

CARFAX, part of IHS Markit (NYSE: INFO), helps millions of people every day confidently shop, buy, service and sell used cars with innovative solutions powered by CARFAX vehicle history information. The expert in vehicle history since 1984, CARFAX provides exclusive services like CARFAX Used Car Listings, CARFAX Car Care, CARFAX History-Based Value and the flagship CARFAX® Vehicle History Report™ to consumers and the automotive industry. CARFAX owns the world's largest vehicle history database and is nationally recognized as a top workplace by The Washington Post and Glassdoor.com. Shop, Buy, Service, Sell – Show me the CARFAX™. Based in London, IHS Markit is a world leader in critical information, analytics and solutions
Discover How Audi Lafayette Goes Above and Beyond to Meet Your Automotive Needs
Here at Audi Lafayette, we've made it our mission to be the automotive home for drivers throughout Acadiana, extending to Lake Charles and Alexandria. We achieve that goal by providing an unparalleled car-shopping experience to each customer who visits our showroom. Many drivers choose us for high-quality inventory, Audi-certified service, genuine parts, and affordable financing.
Our award-winning dealership provides a one-stop-shop experience for all your automotive needs. Discover why so many drivers choose us.

New Audi Inventory
If you're looking for upscale luxury, a new sense of convenience, and cutting-edge technology, our new Audi inventory is right for you. Lafayette and surrounding communities choose us for our vast selection of the latest Audi models in a wide variety of options. With everything from all-electric SUVs to high-end sport sedans, there's something for everyone in our new inventory.
Some of the top Audi models that you may find in our new inventory include:
Hours
Monday

9.00am - 7pm

Tuesday

9.00am - 7pm

Wednesday

9.00am - 7pm

Thursday

9.00am - 7pm

Friday

9:00am - 7pm

Saturday

9.00am - 6pm

Sunday

Closed
Contact Us
* Indicates a required field
Certified Pre-Owned Audi Inventory
You can find a quality Audi vehicle for a great price in our Certified Pre-Owned Inventory. Each of our certified pre-owned vehicles are thoroughly inspected and cleaned to be in its best shape before it even hits the lot. Although we have a used inventory filled with reliable models from various makes, but our certified inventory comes with lower starting prices and our models go through an extensive certification process. You can also save more on our certified Audi vehicles by viewing our certified pre-owned specials!
What Make Audi Lafayette Different?
There's a reason why our dealership is a favorite in Lafayette. Our Audi dealership is a five-time Magna Society Winner and was named the Times of Acadiana Best Luxury Dealership and the Times of Acadiana Best Imported New Car Dealership. Our dedicated team of automotive professionals is always looking for new ways to streamline your automotive experience and create lifelong fans.
With our unique Audi at Your Door service, we make it possible to enjoy a new dimension of ease and satisfaction by offering a premium online shopping experience and contactless auto service. Utilize our seamless online shopping tools to buy or lease your next car from the comfort of your home and take advantage of our pick-up and delivery service for a new sense of convenience.
Contact Us to Learn More
To learn more about our pick-up and drop-off service, please call 888-709-1541 to inquire about specific rates for your location or set up an appointment. Schedule a service appointment or test drive today to find out why so many drivers near New Iberia, Lake Charles, Alexandria, and Broussard choose us!
Why Buy Used? FAQ
Why should you buy a used car?
Buying a used car can be a great investment where you can get your money's worth from a good deal, especially when you buy a quality, luxury car like an Audi. Here at Audi Lafayette, we offer a wide selection of pre-owned Audi and other pre-owned vehicles.
Do used cars have a warranty?
Absolutely, yes! There are many ways your used car can be covered by a warranty. Some used buyers can capitalize on a used cars warranty if the vehicle has been sold before the manufacturer's warranty has expired. We can also offer you an existing warranty or a new special warranty to cover more time.
How is the depreciation on used cars?
Any new car loses much of its original value once it leaves the lot. A benefit from buying a used car is that its value is already at a steady level and will continue to remain the same over time. 
Can I get financing on a used car?
Used car buyers have a better chance of getting approved for financing because they are priced lower than new vehicles. New cars that are priced higher require a higher loan amount whereas used cars are cheaper and require a lower loan amount. Regardless of if you have a low credit score, you can speak with our financial experts to assist you and help you get approved. Our financial experts will help you get the best options available on your next car.