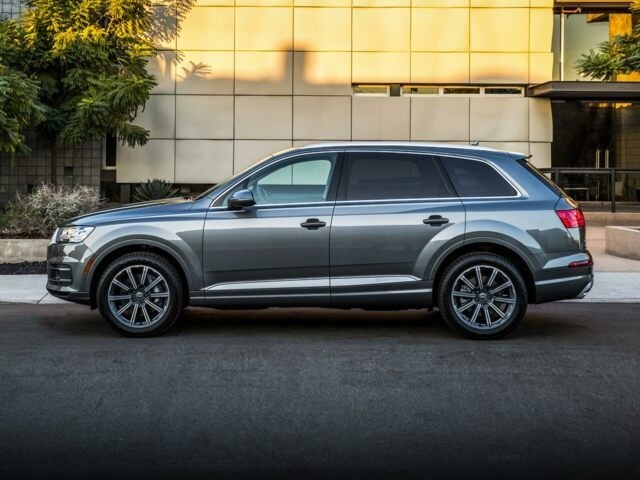 Audi Q7 Research Hub | The Audi Q7 vs. The Competition
Compare the Critically Acclaimed Audi Q7 to Its Toughest Competitors: BMW X5, Volvo XC90, Mercedes-Benz GLS-Class, & INFINITI QX60
| | | | | |
| --- | --- | --- | --- | --- |
|    |    |    |    |    |
|  Audi Q7 |  BMW X5 | Volvo XC90 |  Mercedes-Benz GLS-Class |  INFINITI QX60 |
Audi Q7 vs. BMW X5
Getting into the driver's seat of the luxurious and dynamic Audi Q7 will cost you less than the cost of entry into the BMW X5, and the value of what you get for that money that really starts to drive a wedge between these two luxury SUVs.
Looking for a reliable, luxury SUV that can actually keep up with the hectic pace of family life? The Audi Q7 boasts standard seating for seven passengers, two more than you'll find in the BMW X5, unless you want to pay extra for an optional package to take your seating from two- to three-row, expanding passenger capacity from five to seven. After you remember the Audi Q7's lower starting price, paying extra for a third row in the BMW X5 seems a little much.
When it comes to the convenience of those third rows, even when you pay extra for seven seats in the BMW X5, it still doesn't offer a power-folding third-row of seats; in the Audi Q7, there is one, making it easy to convert your interior from three-rows to a larger cargo space with the touch of a button.
Audi Q7 vs. Volvo XC90
Got a growing family? If so, the Audi Q7 is well-equipped to accommodate you with seating for up to seven passengers right from its base trim. On the other hand, the Volvo XC90's base trim only offers seating for up to five passengers at base, meaning you'll have to pay more to get that extra space.
What about a three-row crossover SUV that can actually tow? The Volvo XC90 tops out at 5,000 pounds of towing capacity when properly equipped, well below the 7,700 pounds that the Audi Q7 can pull with ease.
Need something to keep the kids occupied on longer road trips? The Audi Q7 features an available rear seat entertainment system to keep your little ones happy and occupied on long, boring car rides, while you simply enjoy the drive. Unfortunately for parents in the Volvo XC90, no such comparable system exists on this Swedish crossover.
Audi Q7 vs. Mercedes-Benz GLS Class
For some, money is no object, but for others, all objects are money; in the case of the Mercedes-Benz GLS-Class, that would be better phrased as a lot of money. In fact, the Mercedes-Benz GLS-Class SUVs are significantly more expensive than the comparable Audi Q7 models.
It actually might surprise you when you consider what you're actually getting with such a hefty starting price on the Mercedes-Benz GLS-Class SUVs; the Audi Q7 offers leather upholstery as part of the its extensive standard feature list, while the Mercedes-Benz GLS-Class only offers premium vinyl as a standard feature, meaning you'll have to pay more for leather—something we think should be standard with such a high cost of entry.
In a family SUV, keeping everyone happy is already a challenge, but it's made just a bit easier with the Audi Q7's standard tri-zone automatic climate control, allowing your passengers in all three rows to enjoy their own personal comfort in the Audi Q7. By comparison, the Mercedes-Benz GLS-Class SUV only has dual-zone climate control among its list of standard features, which means someone is getting left out.
Audi Q7 vs. INFINITI QX60
Customization has never been INFINITI's strong suite, and unfortunately, the INFINITI QX60 is no exception. While you'll find a lot of different options—trims, available features, packages, accessories—for the Audi Q7, many drivers feel a distinct lack of customization available to the INFINITI QX60.
In the Audi Q7, you'll find a standard Audi Drive Select, offering four selectable drive modes—Comfort, Auto, Dynamic, and Offroad. In the Audi Q7, taking a comfortable cruise around Lafayette with the family or enjoying a little bit of sporty, dynamic driving fun in your downtime is easy to customize and easy to share with someone else—even if they don't share your personal drive style. By comparison, the INFINITI QX60 lacks selectable drive modes, which has led many automotive writers to speak critically about the INFINITI QX60's suspension.
Both these SUVs offer an available BOSE® Sound System, but it's worth noting that the one available in the Audi Q7 is a 19-speaker BOSE® Surround-Sound Audio System, which out performs the 13-speaker BOSE® Audio System available in the INFINITI QX60, which is also not a surround-sound system, as the Audi Q7's is.
While both these SUVs have a standard rearview camera, only the Audi Q7 has available front and rear parking sensors, making it easier to gauge how close you are to other vehicles or obstacles when you're squeezing into a tight space—after all, a rearview camera won't show you what's in front of you! There's no comparable option on the INFINITI QX60.